OUR MEMORIES & STORIES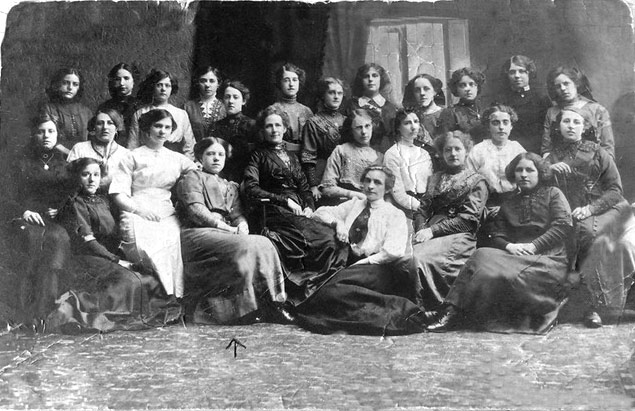 This photo come from a reader, Jess Wild,
The arrow indicates her grandmother.
Jess's Gran, Sarah Brook, was born in 1884, in Chadderton. Her parents were Henry Brook and Mary (nee Garside) who were married in 1880 at St Matthew's, Chadderton.
On the 1881 census they were living with Mary's parents at 439 Middleton Rd. Chadderton with their 1 day old son who died soon after. In 1891 Sarah's father was a foundry labourer, and on the census Sarah is recorded with 4 sisters. Her father died in 1896 and her widowed grandmother married John Atkinson in 1898. the family continued to live in Chadderton.
In 1912, Sarah married Fred Wrigley and, for a time, lived with his parents on Trilby Street, off West Street, in Oldham.
Unfortunately, Jess knows no more about the Group. Perhaps it was a Church Group? A Choir, a War Comforts Group, Mother's Union Group, Temperance Group? The list goes on. If the photo pre-dates Sarah's marriage it could be in Chadderton, however, if afterwards, it might be in Oldham.
Memories & Family History Stories