NEWS & INFORMATION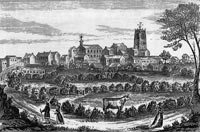 Oldham Historical Research
UPDATE
Welcome to what was, originally, the website of the Oldham Historical Research Group. Prior to the pandemic, our monthly meetings had been held in the Local Studies and Archives, the last being in February 2020. However, from January 1st, 2021 we began holding our monthly meetings online on Zoom where they remained free to everyone who cared to join us.
Since our 'tester' zoom meeting in January, 2021, we had been very happy with the response to our zoom meetings. We found that one of the advantages of holding online meetings was that we could welcome anyone, with an interest in the local and family history of our district, to join us, from anywhere in this country or the wider world. For two years we met and welcomed numerous attendees, from a distance, at our talks ... and it is at this point that we would like to thank all those speakers, who freely volunteered their time, enabling us to offer a varied and interesting programme of Meetings. Sadly, circumstances change, and it is now not possible for us to continue with our regular monthly meetings either at the Local Studies Library or on zoom. However, after some discussion at what was to be our final meeting, in February 2023, it was decided that we should carry on with the meetings on an ad hoc basis, as and when speakers volunteered to give a presentation.
They will, as always, be only on zoom and bookings will be on Eventbrite. Please, either keep an eye on our Eventbrite page HERE or sign up to 'follow' us and you will be notified when there is a new talk.
The aim of the original group was to encourage an interest in researching any aspect of the history of Oldham and the wider locality. With that in mind, the website will remain active and, as previously, if you are researching some aspect of local history, or have completed research, and would like to share it through this website, or give a presentation, please contact me via the email address below.

Sheila Goodyear.
If you need more information, please email me at ...

and I will do my best to help.
********************************************************************
If your interest is in family history alongside local history, then you might like to visit the Oldham & District Branch pages, on the MLFHS aka 'Manchester Ancestors' website.
The normal FH monthly meetings at Oldham Library, with talks, were cancelled from March 2020,during the pandemic, and the decision was taken to hold the meetings online using zoom, from December 2020. Starting with April 2022, meetings will again be held in Oldham Library, hopefully as hybrid meetings so that we can also welcome an online audience.
The Oldham & District Branch Meetings, with talks, will be online on the 2nd Saturday of each month and are free of charge. Details are to be found on their website pages along with a full programme for 2022. HERE
Registration for the talks is on the Eventbrite page, for Oldham & District Branch, HERE
**********************************************************************
at Oldham Local Studies and Archives
on Union Street
Local Studies & Archives Website :
HERE
There are also regular Family History Advice Sessions.
~~~~~~~~~~~~~~~~~~~~~~~~~~~
Manchester & Lancashire Family History Society (MLFHS) has an Oldham Branch with hybrid meetings on the 2nd Saturday of each month, offering a varied programme of talks. Free to members; non-members £3. Venue and programme are on the website. There is also a digital monthly Oldham Branch Newsletter which you can read on-line, or for which you can sign up, HERE
~~~~~~~~~~~~~~~~~~~~~~~~~~~
**********************************************************************
The Peterloo Massacre took place, in Manchester, on St. Peter's Field, on Monday the 16th August, 1819.

The bi-centenary commemoration of the massacre, took place over several months in 2019. Trying to draw together as much new material as possible, we now have a new, dedicated, companion website. HERE
**********************************************************************
FRIDAY 14th DECEMBER, 2018, ANNIE KENNEY CAME HOME TO OLDHAM

Account with photos,
courtesy of Joan Secker Wlodarczyk.
**********************************************************************
**********************************************************************
How we helped a Memorial Plaque from the First World War to find its way home to family 35 years after it was bought in a scrapyard.

Read the story HERE
**********************************************************************
Oldham Past Times

Archived Newsletters of Oldham Historical Research Group
**********************************************************************