BENJAMIN CLAYTON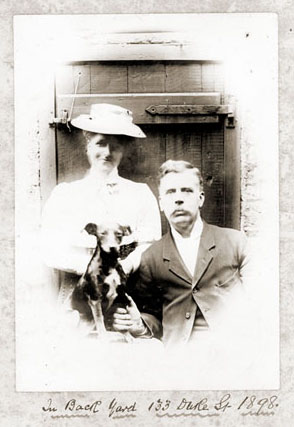 'In Back Yard, 133, Duke Street, 1898'

Ben Clayton was born in 1855, in Failsworth, near Manchester. He was the son of Ellen Clough and the grandosn of George and Bridget, through whom he was related to Florence Goodyear. Her great -grandmother was Ruth Clough, Ellen's sister. Ben and his wife, Mary Ann (known as Aunty Polly), had no children of their own and were very close to the family at 'Failsworth View'.
As a young boy, living on Market Street, Royton, he was employed as a 'grocer's shop man'. In 1881, as a 25 year old man, and according to the census, Ben was still living in Royton, with his now widowed mother and younger siblings. He was employed as the 'Manager of the Co-operative Store'. Later that same year, of 1881, Ben married Mary Ann Travis known to the children at 'Failsworth View' as Aunty Polly.
He went on to become a traveller in 'Grocery and Provisions' living around Hulme, Stretford and Old Trafford, until, after his retirement he went to live in Wem in Shropshire, beofre finally returning to live in Urmston, near Manchester.
According to the inscription in the front of the album, he began it in November 1898 and he was living at 133, Duke Street, Old Trafford.