'SERVICEMEN WE KNOW'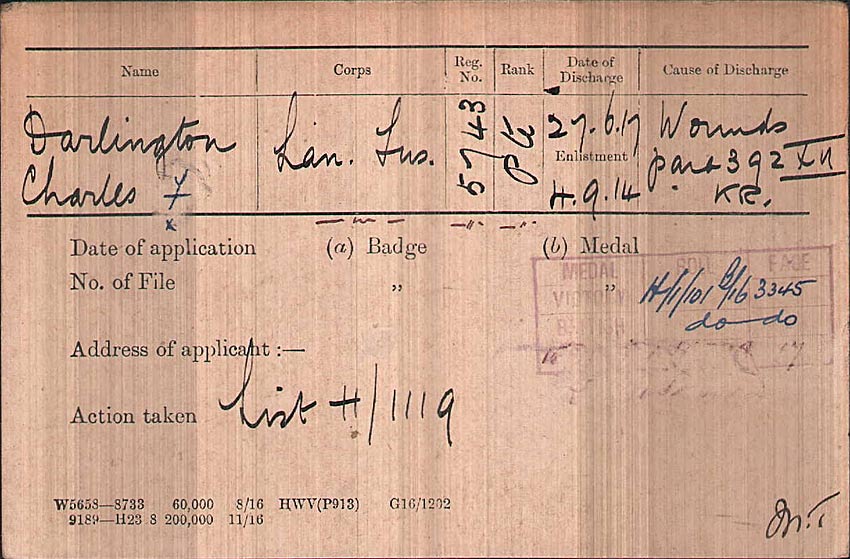 Pte. Charles Frederick Darlington 5743 - Lancashire Fusiliers
of Oldham
Charles Frederick was born on the 31st of January, 1881 at 87 Brackley Street, Farnworth.
He was the son of Edward Livesey Darlington and his wife Rachel (nee Crockbon).
Edward died in 1910 aged 48.
Charles Frederick's siblings were, in order of age following himself :
Amy, Thomas Isherwood, Sarah Eveline, Harry Livesey, Percy Livesey and Edward.
Of their total of 10 children, 4 died in childhood, before 1911.
Charles Frederick married Mary Anna Stow in Glodwick, Oldham, on the 25th December, 1900.
In 1901 they were living at 9, Palmerston Street, Oldham.
In 1911 they were living at 113a Castleton Road, Royton. with their four sons, Edward, Harry, Arnold and Thomas Isherwood,
another son, Walter, had died as a baby in 1909.
Five more children would be born: Fred Stow (1913), Amy (1915), Edith (1918), Frank (1920) and Mary Elizabeth (1922)
Charles Frederick enlisted on the 4th September, 1914 and was discharged from the army in June 1917, after having been wounded.
As a result of his wounds, his left arm was amputated.
He died in April 1923, in Boundary Park hospital, on Rochdale Road, Oldham,
~~~~~~~~~~~~~~~~~
His brother, Pte. Percy Livesey Darlington, 19067 - Lancashire Fusiliers, 3rd Battalion (Reserve)
born in Oldham in 1898.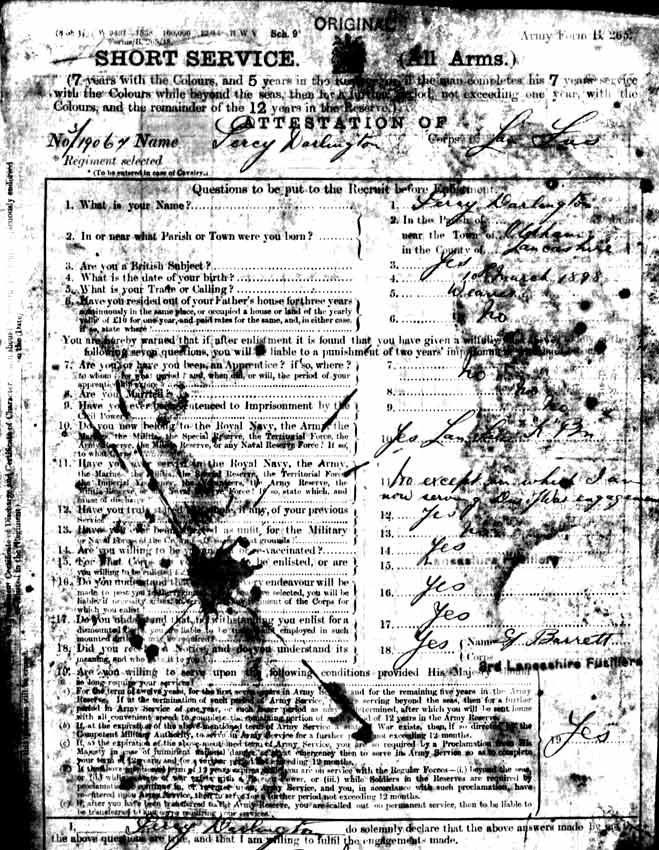 Percy's Army Service papers show that he enlisted in the Lancashire Fusiliers, 3rd Battalion (Reserve), in April 1915.
At the time he was living with his mother, Rachel, in Radcliffe.
He gave his age as 19 years when in actual fact he was only just 17.
In June, 1916, his papers show that he was discharged, the reason being that he had "... Joined the Regular Army ..."
On his attestation papers for the Regular Army he gives his real date of birth - 10th March, 1898.
His enlistment was for 7 years with the 'Colours' and a further 5 years in the Reserve.
He remained with the Lancashire Fusiliers, 3rd Battalion.
In August 1918 he suffered an injury and was discharged from the army, as unfit, in May 1919.
back to 'SERVICEMEN WE KNOW' Gallery
Contributed by : Stephen Darlington