'SERVICEMEN WE KNOW'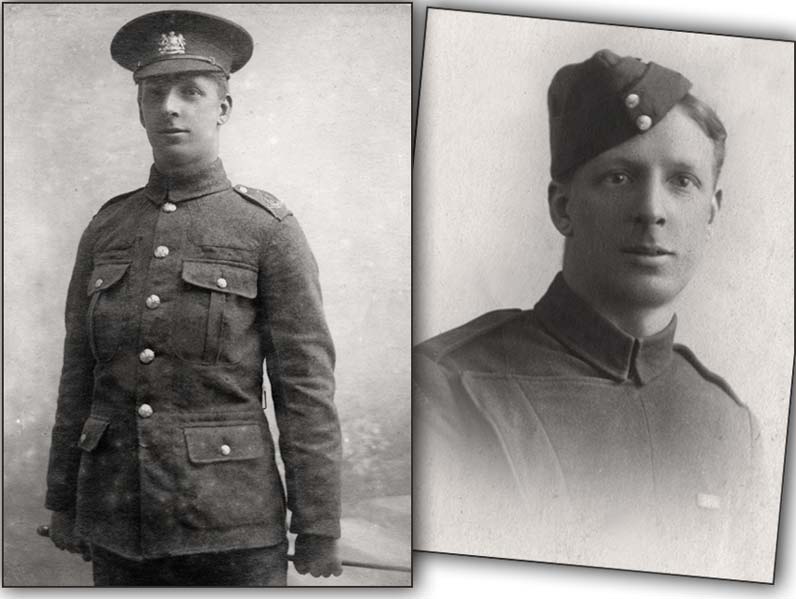 Private 2460, John Hardy Haigh, 10th Battalion, the Manchester Regiment
subsequently Royal Flying Corps. No. 401216
John Hardy Haigh was born on 20/07/1885 to Noel Newell Haigh and Clementina Haigh nee Hardy, at 40 Counthill Road, Oldham, in a house called Heath Bank that had been erected by Noel's father, William Blacket Haigh. John was to have three siblings; Florence Alice Haigh who was three years old, William Newell Haigh who came along three years after John's birth, to be followed by Norman in 1892, but who sadly died in his first year.
John was born into a comfortable home, with a caring family and his father Noel was employed within the family business, W.B.Haigh and Co., of The Globe Ironworks of Oldham as a sales representative. Noel was a local Councillor and a keen member of the Freemasons Society.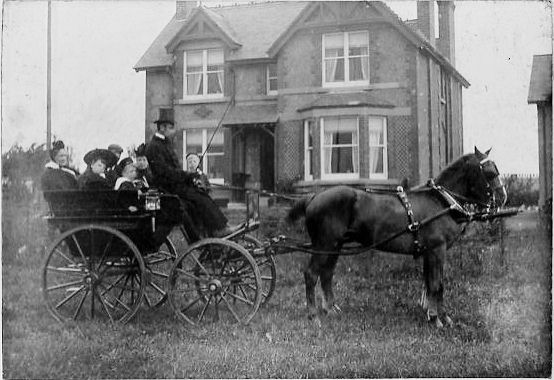 John and the rest of the family including Mrs Harling, their hired help, off in the family 'brake', for a day out.
(Thumbnails link to larger images)

Pictures of John as a toddler

In 1896, Noel went on a sales trip to South Africa, to forward the interests of the family business. The map of Africa below, drawn by John, shows a very different continent to the one that we would now recognise. Mementos from this trip include a Zulu shield and spears complete with a couple of knobkerries, and a gourd decorated with filigree wire.
Map drawn by John

souvenirs of the trip

| | |
| --- | --- |
| Noel travelled on the Castle Liner, 'Grantully Castle', later renamed 'The Augustine', | |
On 4th September 1907, John's Grandmother, Alice Hardy passed away at the age of 84, followed 6 months later by his Grandfather John Hardy, who died on 4th March 1908 aged 85, having been married for 64 years.
John was to attend the funeral of his Grandfather, at Greenacres Cemetery, which involved a procession of nine carriages, with Noel and Clementina in the third carriage, accompanied by John Hardy's half sister, Mrs Betty Webb. John and his Brother William were in the seventh carriage. Soon after this, William, so the story goes, misbehaved with a near cousin, and they allegedly fled together to New Zealand, never to be seen again.
During the following year, John's Mother Clementina, accompanied by her older sister Augusta, took a ship called the 'Carmania' from Liverpool on 19/05/1909 to New York. They had family there, on their Mother's side. Their Mother was originally called Alice Cooper and her father and the rest of her family had emigrated to Philadelphia in the 1840's but she had remained to marry John Hardy.

They made the return journey in October, aboard the 'Caronia'. These vessels were both run by Cunard, and they were sister ships, and the forerunners to the ill fated 'Lucitania'.
Around this time John must have been training for his new career. In the 1911 Census, he is found at a boarding house at 3 Portland Street, Lancaster, and his profession is described in the following terms: Cinematograph Operator and Moving Picture Show Worker. He must have been amongst the pioneers of early cinema in this country. Films were now available to be shown, and the first full feature film ever made in America was released in 1911, costing $180,000. This was a version of Dante's 'Inferno', inspired by the epic poem by Dante called 'The Divine Comedy'. It was to show the first non-erotic full-frontal male, the like of which wouldn't appear again until 'Women in Love' from 1969!
After the 1911 census, it was but a short period before a cloud formed over Europe, culminating in the assassination of Archduke Franz Ferdinand, triggering an escalation of hostilities which soon dragged much of Europe into a devastating war.

Within weeks, on 23rd. September 1914, John enlisted in the 10th Battalion, Manchester Regiment (Oldham Territorials) on 23.09.1914, with the service number 2460.
Months of training with the battalion followed his enlistment.

Judging by his date of entry into an overseas theatre of war, on the 23rd July 1915 (on his Medal Index Card) - in his case Gallipoli & the Dardanelles, he was one of the 200 re-enforcements under Lt Spielmann posted from the 2/10th to join the decimated 1/10th in Gallipoli. They embarked on the 'Ausonia' at Southampton on 3rd July 1915 and arrived in Malta on 12th July 1915.


Before reaching Gallipoli on 22nd July 1915, they spent 5 days tied up at Alexandria. They landed at Gully Beach, on Gallipoli, under Turkish shell fire.
10th Battalion, Manchester,

Regimental Badges
Briefly, the 1/10th Manchester Regiment were :-
04.08.1914 Stationed at Oldham, Lancashire, at the outbreak of war, as part of the East Lancashire Brigade of the East Lancashire Division. Moved to Bury at the end of Aug.

10.09.1914 Mobilised for war and embarked for Alexandria from Southampton arriving 25.09.1914. The Division moved to Cairo and on to defend the Suez Canal except The Manchester Brigade which remained at Alexandria to garrison key military installations.

10.05.1915 Landed at Gallipoli and transferred to the 126th Brigade of the 42nd Division. The Division was involved in attempts to break out of the Helles bridgehead and The Battle of Krithia Vineyard; an unsuccessful attempt to divert Turk attention from a large British landing.

Dec 1915 Due to a high number of casualties from combat and disease the Division was down to one third of its original strength and evacuated (along with all other allied forces) from Gallipoli. The 10th were sent to Egypt.


Read the transcript of the 'Oldham Standard' series of articles,

'Oldham Terriers - their Part in the War

' (the 10th Manchester) written by Sergt. Maurice Bradbury, M.M.
10th Battalion, Manchester Regiment pith pelmet with identification on inside of rim



On 23/08/1916, John was transferred to the Royal Flying Corps with the service number 401216. He was originally employed as a Grade 3 Air Mechanic and Electrician in the RFC, and transferred with the rest of the RFC to the newly formed RAF on 01/04/1918 and promoted on 01/08/1918 to Grade 2 Air Mechanic.


When he was discharged on 30/04/1920, he was described as being 5ft and 5½" with a 34½" chest.
Now, if you recall Mum's trip to America in 1909, it is interesting to consider the following:
'Caronia': The 'Caronia' was, as we read earlier, the Carmania's sister ship, and was the first ship to be converted into an armoured merchant cruiser. On 19th August 1914 she captured the German ship 'Odessa' which was carrying a cargo of Nitrate.
'Carmania': Three days after war was declared, was converted into an armoured merchant cruiser. Both she and her sister ship, The 'Caronia', were armed with 4.7 inch guns. In mid September 1914, she sank the German liner 'Cap Trafalgar'.
The 'Carmania' was on her way to help at Gallipoli, when she ran aground, and instead picked up survivors from three battleships that had been torpedoed in The Dardanelles.
The 'Carmania' was the first Cunard liner to be fitted with turbines. She was eventually repaired, and given back to the Cunard Line. Both ships survived the war.
My father said that John maintained that, during a skirmish, he had bayoneted a Turk, and the experience haunted him for the rest of his life. In fact, I remember a vicious looking bayonet, which came down from Heath Bank, which my father kept wrapped in a cloth, hidden away in the attic. John also told me, when I was a lad, that he was shot in the arm and that the bullet was still there but, years later, I realised that what he had also told me concerning him having flown a Spitfire in the Battle of Britain was a huge fib, but it filled me with wonder at the time. So, until I am able to corroborate the facts, I can't guarantee these events, but the bayonet incident has a ring of truth about it, as does the bullet. What I do know for sure is that he was eligible for the following medals awarded to him on 22/09/1924:
British Great War medals awarded to John Hardy Haigh:
1914-1915 Star - awarded to officers and men of British and Imperial forces who served in any theatre of the First World War during 1914 and 1915
British War Medal - awarded to all officers and men of British and Imperial forces who completed at least 28 days mobilised service during the First World War.
Victory Medal - issued for any war service in the United Kingdom or the British Empire between 5 August 1914 and 11 November 1918.
| | |
| --- | --- |
| | Anyway, John survived the war. Meanwhile, on 26th October 1917, a young lady by the name of Olive May Elford from Tavistock in Devon, at the tender age of 17 years, applied in Plymouth to join the WRAF. She was accepted as a Clerk General. In her demob papers, she is described as being 5'5" tall, of medium build, with hazel eyes and dark brown hair. I am not sure when or where she met John, but the old charmer must have been on good form. He was 15 years her senior, and they were married in December 1922 in Oldham. The following year, their first son was born, Geoffrey Elford Haigh, and in 1926 their second son, Lyn Hardy Haigh arrived. |
| | |
| --- | --- |
| Unfortunately, within eleven years, as with so many war time romances, the honeymoon period came to an end, and for a number of reasons, Olive decided to try a separation. In 1933 or thereabouts, she took the boys on a train journey, back to her home town, of Tavistock. Neither of the boys knew that there were underlying difficulties between their parents, but the extended break continued throughout the summer of that year. The boys were having a great time living in the countryside at Olive's home on a small farm. However, as autumn came along, they were enrolled in the local school, and it became clear that the seemingly temporary break, was now a more permanent thing. | |
John, after his demob, had found gainful employment at the Palace Theatre in Oldham, below are a number of signed photos from this period, as well as some shots of people posing outside the Theatre with John. When the Theatre was converted to the Odeon Cinema, John was well placed to become the Chief Projectionist. We do not know a great deal about this period of John's life, but he did correspond with Olive over the years, although they were never reunited.
John with unknown group

Clemente Merck - Circus

Henry Hall

Forde and Chris

Max Wall

Some of the acts that played at the Palace Theatre in the 1930s whllst John was there

John worked at The Odeon until his retirement, and stayed at Heath Bank until he was quite elderly. In his last year he moved to Bristol for a short time until he sadly passed away aged 82 in 1968.
Narrative & pictures contributed by Ashley Haigh