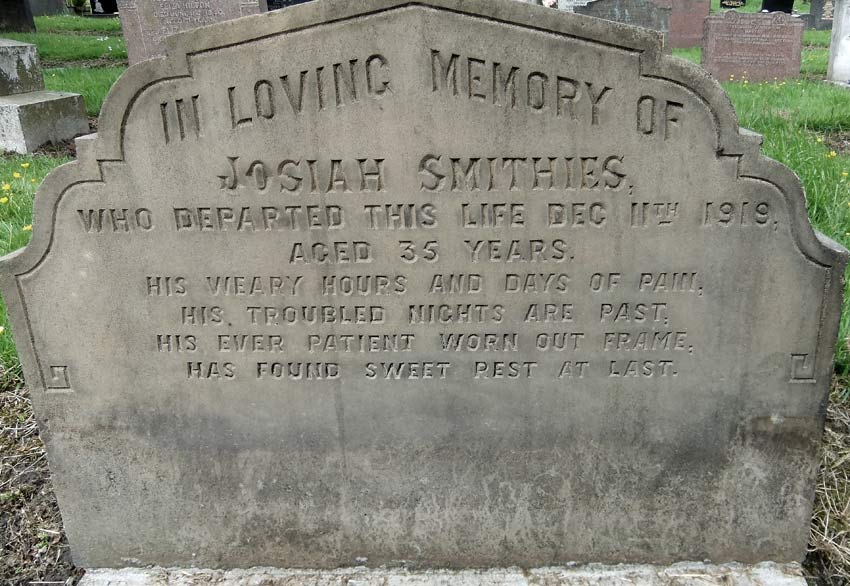 Josiah Smithies No. 40608, Private
Royal Army Medical Corps.
Josiah was born in 1884 in Crompton, Nr. Oldham, Lancashire.
He married Sarah A. Gilmore in 1905 at East Crompton, St James' Church.
In 1911 Josiah, a coal miner, was living with his wife Sarah Ann and their two infant daughters, Lilian and Mary, on Alfred Street, Shaw.
Later in 1911, a son, Thomas was born to Josiah and Sarah.
Josiah was the cousin of Wilfred Smithies and of Edgar Thompson.
Josiah survived the war but died 11th Dec 1919. At that time the family were living on Glebe Street, Shaw.
Josiah is buried in Crompton Cemetery, under a family headstone
and he is commemorated on the CWGC website.
Josiah Smithies
Newly discovered Memorial Plaque


Michaela with Josiah's Memorial Plaque

click

HERE

to see larger pictures and read how the death plaque was re-united with family

35 years after it was found in a local scrap yeard
back to 'SERVICEMEN WE KNOW' Gallery

Photo & information contributed by : Michaela Bilynskyj