'SERVICEMEN WE KNOW'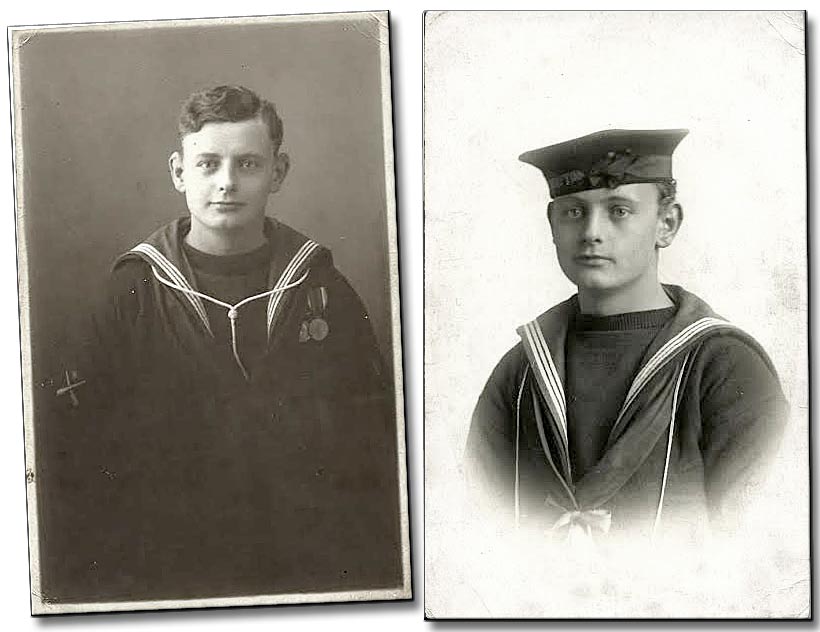 (With his WW1 medals on the left)
George Arthur Sutton, Royal Navy
WW1 Service:
Joined the Royal Navy as a 'Boy 2nd Class' in May 1916 rising to 'Able Seaman' in 1918
WW2 Service:
Petty Officer George Arthur Sutton D/J 53605 - Pension No 26693.
Died on board HMS Hunter, at the First Battle of Narvik, on 10th April 1940.
The information in this article comes from Gordon Lees, whose father was a neighbour and friend of George Arthur in their youth, and includes Gordon's family recollections and his own research.
George Arthur Sutton was born on the 16th July 1899, in Oldham. He was the son of George Sutton and Sarah Dawson, who had married in early 1895 at St.Thomas' Church, Werneth.
On the 1901 census we can find the infant George living at No. 6, Hornby Street, in Werneth, with his parents, widowed grandmother (Mary Sutton), 2 older brothers (Richard, 5 and Stephen, 2) and a baby sister, Elsie. On this census George senior is recorded as a 'Coachman & Groom - not domestic'.
On the 1911 census the family is still living in Werneth, but is now at 39, Plum Street. George and Sarah now have 5 children, the youngest being Norman, born in early 1904. George is a 'Coachman', for a 'Funeral Undertaker'.
As Gordon writes, " ... My dad was in the RNAS at the back end of WW1 ..."
and continues, "... I knew Stephen [George Arthur's elder brother] quite well from Church as he had been a Church Warden, and he had been a pattern maker when younger but became a woodwork teacher and taught technical drawing at Oldham Junior Tech when I was there 1949-51. Immaculate hand writing and drawing I recall. He had attended the St.Thomas' Church of England school in his early years because his name was on a board when he moved on to a higher grade school ...
Anyhow, knowing some of the teachers in school, they lent me an old registration book from 1910 of all pupils but the only one in same was Norman, but it is a safe bet that they would have all gone there."
| | | |
| --- | --- | --- |
| HMS Colossus | On the 17th May, 1916, 16 year old George joined the Royal Navy, as a Boy 2nd Class (ie. a boy aged 15 to 17), with the intention of making the Navy his career. On his papers his trade is described as, "Apprentice Turner". Less than a year later, and a few month's before his 18th birthday, he was promoted to Boy 1st Class. On his 18th birthday, 16th July 1917, he signed on for 12 years, until April 1929. During his period of training he was on HMS Powerful and then transferred to HMS Colossus, first as a Boy 1st Class and then becoming An Ordinary Seaman and, by July 1918, an Able Seaman. In July 1918 he was transferred to HMS Defiance, the Royal Navy's Torpedo School. | HMS Defiance |
His next transfer was to HMS Adventure, on the 3rd September 1918 on which he would remain until the 10th of February 1919. Up to November 1918 she was involved in escort duties for Convoys to Gibraltar and then afterwards she went to the Mediterranean.
Over the following years he would be attached to a number of ships, both at sea and on shore, namely : HMS St. George, HMS Europa, HMS Caesar, HMS Julius, HMS Victory, HMS Vivid and HMS Valiant. It was at this time, between December 1920 and May 1922 that he was made up to a Leading Seaman.
| | | |
| --- | --- | --- |
| HMS Dolphin | Over the next couple of years he served on HMS Vivid 1, HMS Dolphin then HMS Cyclops. He was transferred from HMS Cyclops at the end of August 1924, and returned to HMS Dolphin On the 30th August. It was at this time, in the third quarter of 1924, that George Arthur married Betsy Ann North at St.Thomas' Church, Werneth. | HMS Cyclops |
From Ocotober 1924 until July 1925, he served on board HMS Titania, HMS Ambrose and then HMS Titania again, when he was again promoted, this time to Acting Petty Officer.
He remained with HMS Titania until November 1925 when he was transferred back to HMS Ambrose, to HMS Dolphin in April 1927, HMS Pembroke in June 1928 and back to HMS Dolphin again in September 1928 until his time expired in April 1929. Only a couple of months previously, on the 16th of February, his wife, Betsy Ann died as a result of a cardiac arrest during childbirth. George Arthur's Naval record shows no obvious break in Service after 1929 so can only assume that he signed on for a further 10 years as commencement of his pension is dated July 1939.
In the years up to the outbreak of war in 1939, George Arthur served, variously, on HMS Dolphin, HMS Vivid, HMS Lucia, HMS Cyclops, HMS St Angelo, and HMS Douglas ... more than once with each. In 1931, whilst with HMS Cyclops, he was promoted to Chief Petty Officer.
On the 15th July 1939, only a couple of months before the outbreak of the Second World War, his service record shows ... 'Shore, Pensioned; No. 26693'
However, he was mobilised again on the 7th of December 1939, as a Chief Petty Officer and assigned to HMS Drake.1.

Three weeks later, on the 26th December, at St. Thomas' Church, in Werneth, Oldham, he married again. His second marriage, in which his bride would be widowed less than 4 months later, was to May Deven.

In January 1940 he joined the HMS Whitshed and, five weeks later, on the 1st March 1940 he joined the ill fated HMS Hunter.

Six weeks later, on the 10th April, 'Hunter' was sunk by German Destroyers in the 1st Battle of Narvik ... 112 members of the crew lost their lives as a result, including George Arthur Sutton.

HMS Hunter
Information & portrait photos contributed by Gordon Lees
Service Record information from Gordon Lees - courtesy The National Archives
Photographs of HMS Colossus, HMS Cyclops, HMS Whitshed and HMS Hunter courtesy Imperial War Museum