'THE GREAT WAR', 'THE WAR TO END WAR', 'WORLD WAR 1'
'What passing-bells for these who die as cattle?
- Only the monstrous anger of the guns.'
from 'Anthem for Doomed Youth' by Wilfred Owen
CONSCIENTIOUS OBJECTION IN WW1
Example from the Military Service Local and Appeal Tribunals in Middlesex, from the National Archives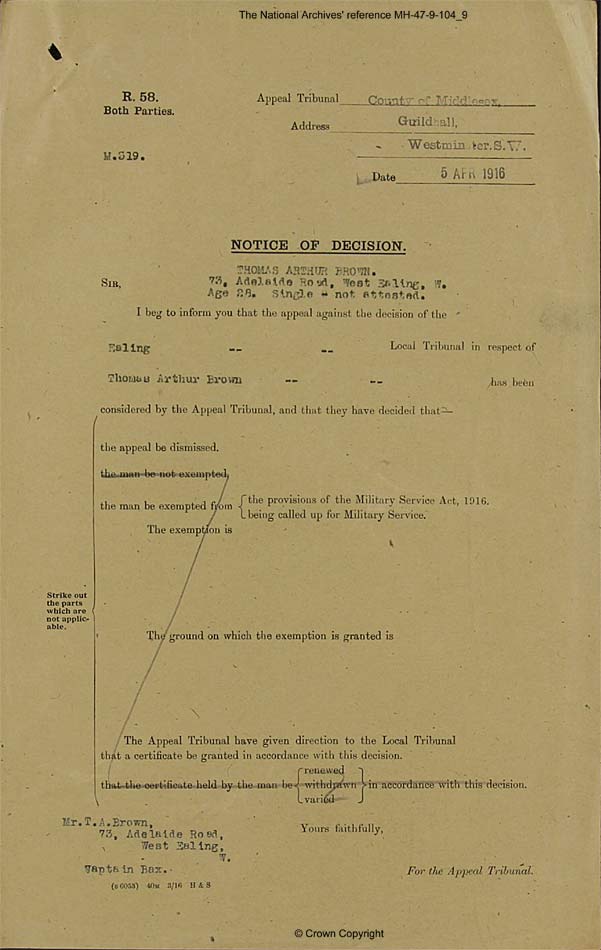 Thomas Arthur Brown

R. 58
Both Parties
Appeal Tribunal County of Middlesex,
Guildhall,
Westmeinster, S.W.
5th April 1916
NOTICE OF DECISION
Sir,
Thomas Arthur Brown,
73, Adelaide Road, West Ealing, W.
Age 28. single - not attested.

I beg to inform you that the appeal against the decision of the Ealing Local Tribunal in respect of Thomas Arthur Brown has been considered by the Appeal Tribunal, and that they have decided that :
the appeal be dismissed.

Return to Examples from the Military Service Local and Appeal Tribunals in Middlesex Page

If you have Oldham and District items that we can include on our website, PLEASE visit the information page to find out how you can help.