'THE GREAT WAR', 'THE WAR TO END WAR', 'WORLD WAR 1'
'What passing-bells for these who die as cattle?
- Only the monstrous anger of the guns.'
from 'Anthem for Doomed Youth' by Wilfred Owen
CONSCIENTIOUS OBJECTION IN WW1
Example from the Military Service Local and Appeal Tribunals in Middlesex, from the National Archives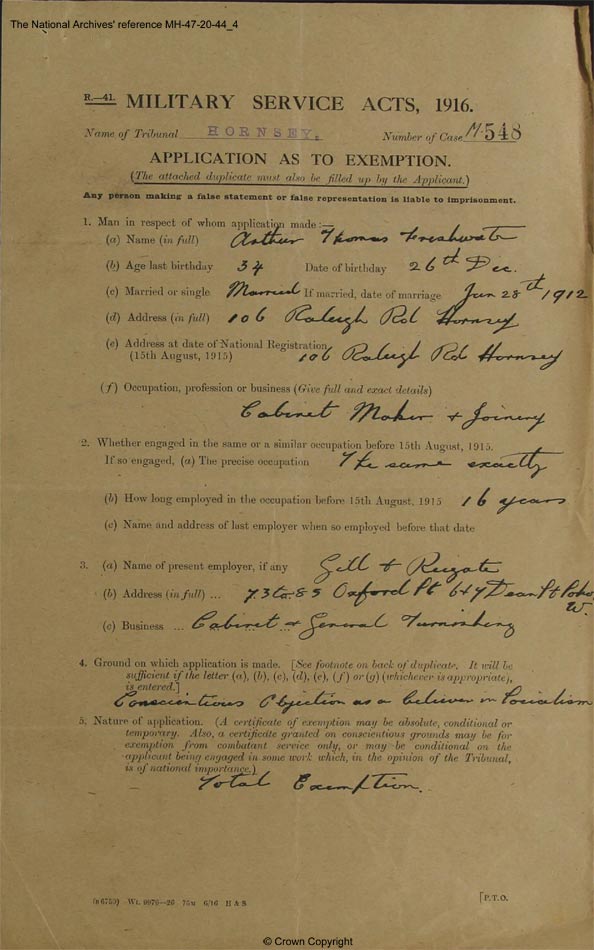 Arthur Thomas Freshwater

For Local Tribunal
Military Service Acts, 1916
Application as to Exemption
Name: Arthur Thomas Freshwater
Age 34
Date of birth: 26th December
Married; Date of marriage: June 28th, 1912
Address: 106, Raleigh Road, Hornsey.
Occupation: Cabinet Maker & Joinery. For 16 years.
Employer: Gill and Reigate
Address: 73 - 85 Oxford Street and 6&7 Dean Street.
Business: Cabinet and General Furnishing.
Ground for application: Conscientious Objection as a believer in Socialism.
Nature of application: total exemption.

Return to Examples from the Military Service Local and Appeal Tribunals in Middlesex Page

If you have Oldham and District items that we can include on our website, PLEASE visit the information page to find out how you can help.