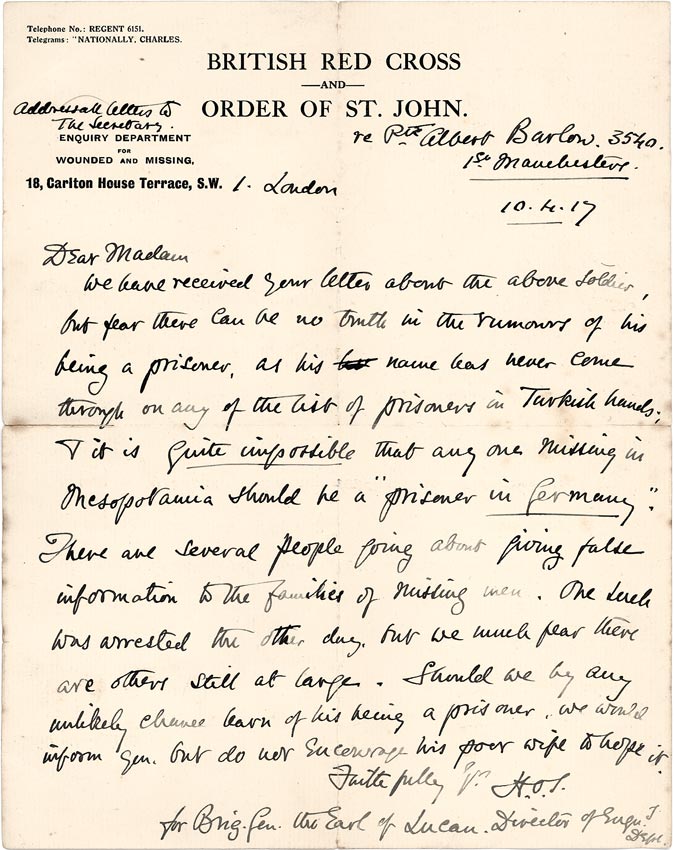 TRANSCRIPT of the letter
Telephone No. REGENT 6151
Telegrams: "NATIONALLY, CHARLES
BRITISH RED CROSS
AND
ORDER OF ST. JOHN.

Address all letters to
The Secretary
ENQUIRY DEPARTMENT
FOR
WOUNDED AND MISSING,
18, Carlton House Terrace,
SW1 London

re. Pte. Albert Barlow, 3540,
1st Manchesters

_________________

10 . 4 . 17
Dear Madam,
We have received your letter about the above soldier, but fear there can be no truth in the rumours of his being a prisoner as his name has never come through on any of the list of prisoners in Turkish hands; & it is quite impossible that anyone missing in Mesopotamia should be a "prisoner in Germany".
There are several people going about giving false information to the families of missing men. One such was arrested the other day but we must fear there are others still at large. Should we by any unlikely chance learn of his being a prisoner we would inform you but do not encourage his poor wife to hope it.
Faithfully,
H.O.S.
for Brig. Gen. the Earl of Lucan, Director of Enqu. Dept.
Notes:
Private ALBERT BARLOW, 3540, of the 1st Battalion of the Manchester Regiment
was the son of the late Thomas and Margaret Barlow;
and the husband of Alice Mary Barlow, of 16, Bower Lane, Hollinwood, Oldham.
On the 1911 Census he is recorded as living on Roman Road, Failsworth.
With him are his wife and 3 young children, Maggie, Fred and Elsie.
Also with them is his 22 year old brother, Thomas.
Albert had also served in the South African Campaign.
'Servicmen We Know' Page
Subsequently, his name was added to :
The 'Failsworth Wesleyan Church and School Roll of Honour'
'killed in Mesopotamia, March 8th 1916' HERE
AND
He can also be found on the CWGC website,
With no known grave he is commemmorated on the Basra Memorial.
He was age 44 at the time of his death.
Contributed by : Martin Goodyear