In Jutland Fight
Oldham Sailor recalls the Big Victory
Oldham in normal times being an inland town, and therefore remote from the allure of the sea, is not a place that produces a large number of sailors, but in these times many hefty lads in our midst, who otherwise would have been content to remain peacefully at home in some branch or other of the great cotton industry, has felt the call of the wave, the tang of the salt spray, and has donned the picturesque blue uniform of those who go down to the sea in our ships o' war. Some there were, however, who were drawn to the sea when the days were peaceful and sailoring a more pleasant and infinitely less dangerous occupation, and one of these was Chas. Garside, who is well known to many of the younger generation of workers in the Glodwick district, and who makes his home with his parents at 40, Kingsbridge Road.
Young Garside, for he is still little more than a youth, is a credit to his parents and to his training. Tall and straight as a reed, the bloom of health is in his cheeks and he is a walking testimonial to the efficiency of the British Navy in its task of turning out men. His is the honour of having passed through the greatest sea fight in modern history – the Battle if Jutland, in which our indomitable fleet covered themselves with glory in a manner which would have made old Nelson write another of his immortal eulogiums of the British seaman, had he but been here to do it.
During the last few days Garside has been home on a well-deserved leave after many a wearying day aboard one of the iron aquatic monsters that keep watch and ward over our shores. It goes without saying that he vividly recalls the happenings of almost every minute of that crowded day. May 31st, when our Tars showed the Teuton bluejackets that Britain was as well able to uphold her prestige on the waves in these days as she was when Drake destroyed the Spanish sea power and won for this little island the mastery of the seas.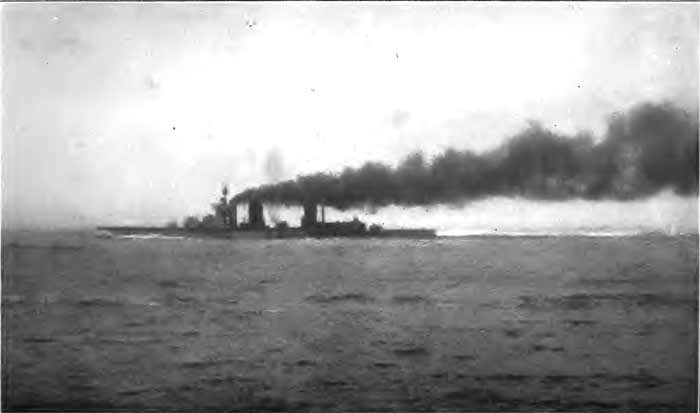 Cordite flame shooting out of pierced roof of 'Q' turret, 'Lion'
Photo taken from HMS Lydiard
Yes I'm never likely to forget that 31st May. Recollections of it will be with me as long as I live, and I shall always feel proud that I was one of those to be privileged to take part in the great tussle of Jutland. I well remember how, at 3-30 on the Wednesday afternoon, we first heard that part of the German fleet were knocking about somewhere in the offing. It was somewhere near 4-30, however, before we came into touch with them, and they were first tackled by our battle cruisers, who chanced across a number of German cruisers, accompanied by smaller craft. We – my ship – were steaming up to be in it and somewhat near 5 o'clock we could hear the guns a-going so plainly that we knew we were hot on the scent. You may guess that we felt a bit excited; I guess you would be when you learned that you were going into a life and death battle. It's only natural, isn't it? And there was a feeling of pride about us too, for the British sailor loves his native land and whatever happens you can always depend upon him to do his little bit to guard these shores and defend the old folks at home! Well, to proceed, the battle was at its highest at about eight o'clock at night and it was a little time after that H.M.S. Defence was badly mauled by a salvo of shells from one of the German Dreadnoughts. The broadside smashed her up badly and then it was the turn of the Black Prince, and she too got badly handled and went under, although I did not see her disappear, for she had taken up position on the right flank before she met her fate. The Warrior next was either struck by a torpedo or she fouled a mine, which we on the XX couldn't see, because we were in the thick of it and soon were hit ourselves. By this time our Dreadnoughts had manoeuvred into a good position, and then they let the Germans have it hot and strong, causing them to shift their position here and there and all over the place. By this time pretty well all the German High Seas Fleet were present, and as the battle proceeded night began to fall and with it came a thick fog. Under cover of this the destroyers and small craft did splendid work, as the result of which more than one German ship now lies on the ocean bed. By morning the Germans had gradually worked their way home and at length they clapped on full speed and with them it was a case of heigh-ho for the Kiel Canal. In other words, they turned tail and the German officials and papers turn round and talk of a glorious victory. Why, they were snug in harbour two days before we left German waters. No, the win was on our side, and our boys in blue lived thoroughly up to the reputation their forebears won for the British Navy.
Oldham Chronicle, 29 Jul 1916
HERE

to return to 'Battle of Jutland' Menu page

HERE

to return to WW1 Menu page