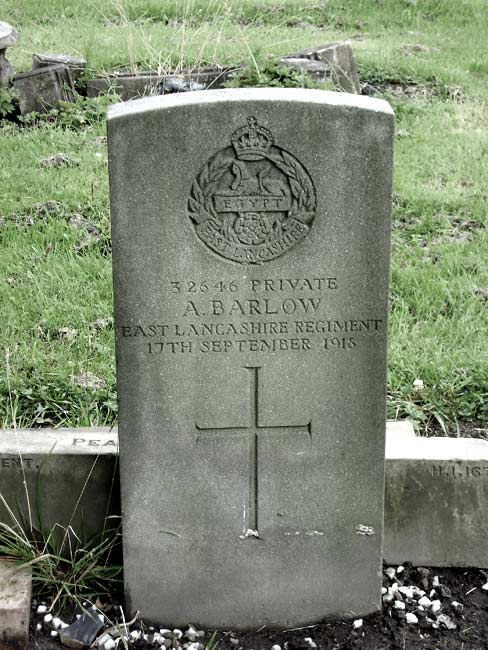 On Tuesday 17th September, 1918, the Oldham Chronicle reported that
Private Arthur Lumb Barlow, The East Lancashire Regiment,
had shot and killed himself in the upstairs room of his home:
"Oldham Evening Chronicle Tuesday 17 September 1918
SOLDIER'S SUICIDE
ON EVE OF RETURN TO FRANCE
Private Arthur Lumb Barlow, of the East Lancashire Regiment, who was on furlough from France, shot himself in No 3 house, No 1 Court, Thorn-street, Ashton-road, this afternoon.

About 2.30 Special Constable Isaac Roland was on duty in Ashton-road when he was called to the house and informed by the man's wife that Barlow had shot himself. He should have returned to duty to-night. The constable went upstairs and found the soldier lying partly on the floor. He had shot himself in the left temple and the bullet had evidently passed through the roof, as there was a hole in the ceiling.

The body was taken in the ambulance to the Infirmary and later to the mortuary. Barlow had with him his service rifle and the deed had been committed with this.

It was his first furlough for 14 months. His wife was getting something for tea when he shot himself."
The bare facts tell us very little but the inquest helps us to understand a little more:
"Oldham Evening Chronicle Thursday 19 September 1918
SOLDIER'S SUICIDE
HAD SEEN QUITE ENOUGH OF FRANCE
Mr E C Marland, deputy coroner, held an inquest on Wednesday at Oldham Town Hall on Arthur Lumb Barlow (41) of 3 House, 1 Court, off Thorn-street, Oldham.

Emily Barlow, widow of the deceased, said her husband was a private in the East Lancashire Regiment. He had been in the army four years and had served 14 months abroad. Whilst in France he had brain fever. On September 2 he arrived home on a 14 days' leave and brought a rifle with him. He had never threatened to commit suicide. He was depressed and low spirited but brightened occasionally.

He should have gone back on Monday but did not. On Monday night she did not notice anything wrong with him. He remarked that his time was short but witness thought he meant his time for returning to active service. He packed up and got everything ready for going. During the whole of Tuesday morning he scarcely spoke. She last saw him alive about a quarter to two in the afternoon"
So we learn a little more about this man's history ...
He'd been in the army 4 years so must have signed up virtually as war was declared and had been in France, without home leave, for the 14 months prior to his death. Arthur's wife, Emily, told the Coroner that he had suffered from Brain Fever; whilst in France but what we don't learn is how serious his condition had been, what traumatic incident or series of incidents had triggered it or how well he had been helped to recover ... or not. What we do know is that, to him, certain death, by his own hand, was a preferable alternative to returning to France and the fighting.
We can try to fill in some of the details of Arthur's life ...
He was born in 1878 in Oldham, to Oldhamer Levi Lumb Barlow and his Leicestershire born wife, Eliza (Norman). He was baptised on the 5th June 1878, at St. Stephen and All Martyrs in Oldham.
By the time we find the family on the 1881 census, there is another addition, 9 months old Susey. They are living at 7 Court 4 off Egerton Street. 25 year old Levi was employed as a Weaver. This is the last record I've been able to find of Levi ...
on the 1891 census Eliza and the children, Arthur Lumb and Susey, are living in the 4 rooms at 10 Court 1, Wardle Street. Also living there are 48 year old widower Henry Barber (head of the household), an 'ironworks labourer', and his 5 children, ranging in age from 8 to 18. Eliza is recorded as a 'relative' and 'housekeeper' and now has a 1 year old daughter, called Lilly Barber Barlow.
The 1901 census is the last one in which we find Arthur living with his mother and sister. On this census Eliza is shown as a 48 year old widow living in the 4 rooms at 16 Maitland Street. Also there are Arthur (22), a cotton spinner and Susey (20). Henry Barber's two younger sons, William (21) and Abel (18) are also living there, as boarders. 11 year old Lily B. Barlow is there, and also recorded as a 'boarder'.
In 1902, Arthur married Emily Nuttall, and over the next 9 years they had 3 children. On the 1911 census we find the family living in the 3 rooms of House 3, 3 Court, Scott Street. Arthur at 32 was a labourer at an 'iron and machine brokers' ['breakers'?]. His 30 year old wife Emily was a 'ring frame spinner'. His son Sidney was age 8, son Louis 6 and daughter Minnie 5. Also with them was a 17 year old 'brother in law'.
Arthur's British Army Service Record doesn't appear to have survived, but it seems that he enlisted voluntarily in 1914 if, as Emily says, he was in the army for 4 years. His medal rolls index card shows that he was entitled to 2 medals ... the Victory Medal and the British Medal. The card records that he was in the East Lancashire Regiment, number 32646, and at some stage was in the Labour Corps, number 374212.
The next time we hear of him is when we read the sad report of his suicide in September 1918.
He was buried in Greenacres Cemetery and has a CWGC headstone. He is remembered on the CWGC website HERE and see his Memorial Certificate HERE.
But his story doesn't end there ... as a footnote to his life we can find his sons Sidney and Louis on the 1939 register, both are married, and still living in Oldham. Sidney has one child (redacted on the register) and Louis and Emily (only recently married) will go on to have 4 children of their own. As yet, of Arthur and Emily's daughter Minnie, I have found no definite evidence of what her story became.
return to Newspaper Cuttings Menu page
Contributed by Dorothy Bintley and Sheila Goodyear