THE CHRONICLE
OLDHAM, SATURDAY JULY 21, 1979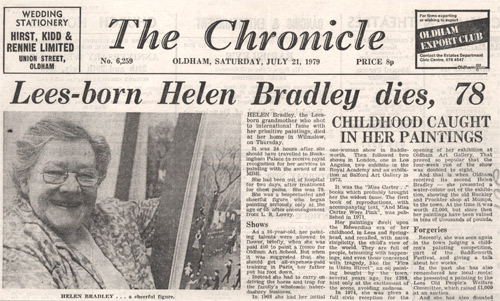 .
Transcript:
HELEN Bradley, the Lees-born grandmother who shot to international fame with her primitive paintings, died at her home in Wilmslow, on Thursday.
It was 24 hours after she sheould have travelled to Buckingham Palace to receive royal recognmition for her services to painting with the award of an MBE.
She had been out of hospital for two days, after treatment for chest pains. She was 78.
She was a bespectacled and cheerful figure who began painting seriously only at the age of 65, after encouragement from L. S. Lowry.
Shows
As a 16 year old, her painting talents were allowed to flower, briefly, when she was paid £60 to paint a fresco for Oldham Art School. But when it was suggested that she should get all expenses paid training in Paris her father put his foot down.
Instead she had to carry on driving the horse and trap for the family's wholesale haberdashery business.
In 1968 she had her initial one-woman show in Saddleworth, Then followed two shows in London, one in Los Angeles, two exhibits in the Royal Academy and an exhibition at Salford Art Gallery in 1973.
It was the "Miss Carter .. " books which probably brought her the widest fame. The first book of reproductions, with accompanying text, "And Miss Carter Wore Pink", was published in 1971.
Her paintings dwelt upon the Edwardian era of her childhood, in Lees and Springhead, and recalled, with naive simplicity, the child's view of the world. They are full of people, brimming with happenings, and even those concerned with tragedy, like the "'Fire in Union Sitreet" , an oi] painting bought by the town several years ago for £288, hint only at the excitement of the scene, avoiding sadness.
In 1974, she was given a full civic reception for the opening of her exhibition at Oldham Art Gallery. That proved so popular that the four-week run of the show was doubled to eight.
And that is when Oldham received its second Helen
Bradley - she presented a water-colour out of the exhibition, showing the old Buckley and Prockter shop at Mumps, to the town. At the time it was worth £2,000, but since then her paintings have been valued in tens of thousands of pounds.
Forgeries
Recentiy, she was seen again in the town judging a children's painting competition, part of the Saddleworth Festival, and giving a talk about her works.
In the past she has also remembered her local roots: she presented a painting to the Lees Old People's Welfare Committee, which raised £1,000 at an auction.
And she has also donated two large signed prints of Daisy Nook to promote the campaign opposed to the M66 motorway, which threatens the area.
She had to go to court when two forged copies of her work were discovered . . . one of them was due to be sold at Sothebys in 1977. It was a copy of a painting showing her relatives visiting Greenacres Cemetery.
She leaves a widower, Tom, and two children, Peter and Elizabeth. She has a brother Frank, still living in Salem, on Lees Road, and another brother, Arthur, who lives in Windermere.
Funeral
Her funeral will be at Wilmslow United Reform Church, on Monday.
Her husband, Tom, has very poor eyesight, so the family has requested donations in lieu of flowers, to the Royal National Institute for the Blind.
Oldham's Director of Art Galleries and Libraries, Mr. James Carter, said: "Although. Helen Bradley did not come to prominence until later in life, she was one of the country's leading primitive painters, I had a very high regard for her as an artist. We had a lot of contact with her, over the years, and I know she always had a very deep affection for Oldham."
2013 note:
A Blue Plaque commemorates Helen Bradley at 3 Princess Street, Lees