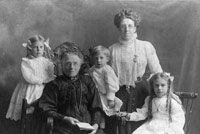 Flossie is seated on the right.
From the left.... sister Lily; grandmother Mary Ann Rydings (nee Schofield); brother James; and mother Elizabeth Jane (nee Rydings
OUR MEMORIES & STORIES
'Failsworth View' - and the Bag of Gold
Not much of a view, today, but 170 years ago, it would have been a different story.
In 1840, two adjoining cottages, known as Failsworth View, were built on what was then known as the New Turnpike Road between Oldham and Manchester, Later to be known as Oldham Road. The old, main road, at that time went along Wickentree Lane and past the Old Packhorse Inn. There was a cottage about 100 yards from "Failsworth View" but little else to be seen other than fields.
The builder of these 2 cottages was a man named Robert Schofield and he was the 2x Great Grandfather of my husband, Martin Goodyear. The cottages have remained in the family's possession since that time.
The following is taken from the manuscript "Robert a't'' View' by Florence May Goodyear 1902-1996 :
"Auntie who is this lady?" queried my eight year old great nephew holding up a very old photograph, but before I could answer a little voice piped. "Doggie, doggie, woof, woof. "And it was the three-year-old little sister of the speaker expressing her interest, not in the lady, but certainly in the lady's pet as her eager fingers attempted to grasp the fading carte-de-visite' revealed.
Whilst in a fit of nostalgia, I had surrounded myself with family reminders of an earlier age. "Tell me a story about this doggie" pleaded the little girl, completely taking over the situation, whilst her brother had to wait the reply he was seeking.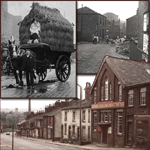 "Well, my dear, the little dog was called Fido. He lived in this house years ago and he was a good companion to the lady in the picture. The lady became my mother, who and makes her your great-grandmother. Too young to be interested in the genealogical aspect, comments rolled out which developed into a quick question and answer session. "He's sitting up; is he not playing with the lady?" "Oh no, he is being obedient; see, the lady has raised her finger to him. I think she must have said; Now Fido, you be a good boy." "Why, what had he done?" "I don't really know, but he could have been chasing boys and girls for their pocket-money." This news indeed for, up to now, in spite of her marked interest in domestic animals, in her short life; never had she found a dog which liked money.
Anticipating further questions, I volunteered the theory that he must have noticed dropped coins rolling and, being speedier than the owners, he won as a visit to his kennel often testified. Stunning information of this nature put temporary halt to the rapid interrogation and the thoughtful look on her face was an indication that a poser was being dealt with by her active brain which, no doubt, would demand a further crop of answers in due course. However, the boy, quick to spy the advantage this lull had given him commented, "I like the bag of gold story best". I expected to be asked to tell this once again but was spared the repetition, for Rachel, having obtained her second wind, was this time attracted by passing traffic so decided to monopolise her brother's skills and ingenuity by suggesting he should convert the settee into a dormobile. A lightning change of interest therefore took place.
Michael liked the Bag of Gold Story. So did I. It was one beloved of my childhood, told to me by my grandmother, repeated by my mother and, also, in my presence, told to the many visitors to our family home.
My maternal grandmother's father, Robert Schofield,, must have been a real home maker. He obtained a plot of land in a cornfield on which he built, in 1840, two four-roomed cottages which subsequent descendants have altered to suit their requirements. In one of these I now live and, from being on the New Road has, in the fullness of time, found itself on the A62 so there I am, behind my double yellow lines, with assortment of traffic continually rushing by; a situation which my forebear could never have envisaged.
One day when great-grandfather was busy with his building project he noticed that a passing horseman had dropped something from his saddle but apparently, the rider was unaware of this for there was no interruption of his steady trot as he proceeded towards Manchester. Crossing to investigate, great-grandfather was surprised to find, on the rough pathway, a bag containing golden coins which must have fallen from the saddle.
Determined to restore the money to its owner he followed the rider but he had a long distance to cover and it was not until he recognised the horse, tethered outside the " Royal Oak " near Miles Platting, that he was able to identify the rider amongst the travellers congregating in that hostelry. On the restoration of this cash the owner was pleasant conversation which ensued it was revealed that the horseman was himself a builder who was on his way to pay his workmen their wages. He was interested to hear about the cottages and said he had noted them in course of erection as he had passed through Failsworth. Pleasantries concluded great-grandfather trudged back-that- that- just an incident and a six mile walk. There was, however, a surprise in store for him. Imagine his amazement when a wooden beam was delivered to the site, addressed to 'the honest man building the cottages,' with the compliments of the owner of the bag of gold, and with a request that the beam be incorporated into the new structure.
How my grandmother gloried in telling this story about her own father. "Honesty is the best policy," she would say in ringing tones as she pointed upwards to the sturdy beam.
Contributed by Sheila Goodyear