OUR MEMORIES & STORIES
This memory is from Norma Eaton and is about her husband's uncle, CLIFFORD EATON. Clifford was born at the end of 1910, in Oldham. He was one of the youngest of the 12 children of stonemason Charles Eaton and his wife Annie O'Brien. Clifford was only 5 years old when his father died at the early age of 43, in 1916.
~~~~~~~~~~~~~~~~~~~
"Born in Oldham following the family's return from Scotland, Clifford soon showed potential as a footballer. Initially playing for Leesfield Parish Church team Clifford was asked to tum professional and he signed for Portsmouth F.C.
The start of the Second World War interrupted Clifford's playing career and he enlisted in the R.A.F. Later when he was based at Kirkham aerodrome and whilst still a member of the forces, he played a number of times for Blackpool.
Following demobilisation he returned for a short time to Portsmouth then transferred to Oldham Athletic. Clifford later played for Hyde United and ended his playing career at Chelmsford City FC."
by Norma Eaton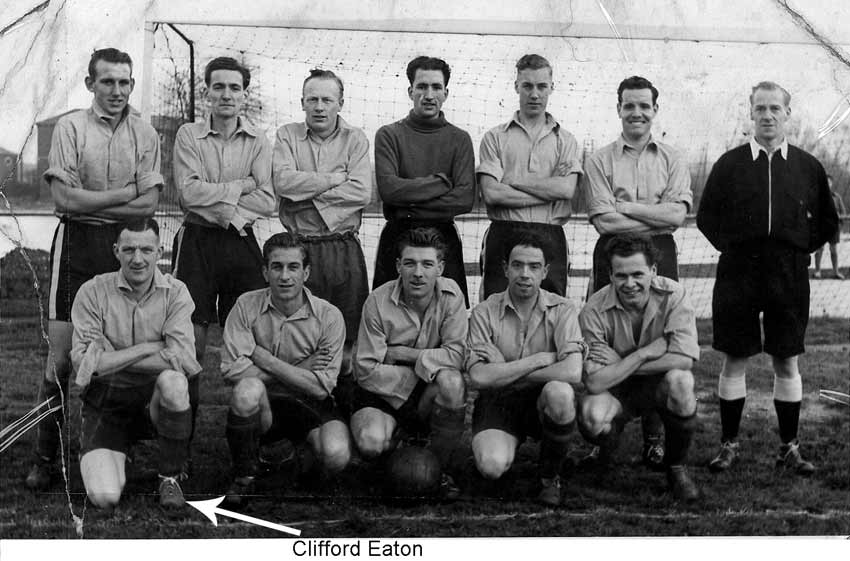 Story and photo contributed by Norma and Brian Eaton