OUR MEMORIES & STORIES
This memory is from Norma Eaton and is about her mother in law, born MARY ELLEN OLIVER, born 3rd March,1903, she died on the 22nd March 1971. She married Charles Eaton, on the 12th December 1923, in Oldham.
Her parents were Edwin Oliver (born about 1842 in Dukinfield, near Ashton under Lyne) and Annie Lowe born about 1862 in Cheadle, not far from Stoke on Trent in Staffordshire. She was Edwin's 2nd wife and they married in 1898. Their son, Arnold, was born in 1899, in Gorton, but was killed in the final few weeks of the Great War in 1918.
~~~~~~~~~~~~~~~~~~~~~
"Mary Ellen Oliver, or Nellie as she was known, was born in Walney Island, Barrow-in-Furness in 1903. Her Father was a well respected Non-Conformist Minister of Religion, her Mother a Cook, with a steady job at Windermere Grammar School. Until she was 13 years old Nellie's life appears to have been quiet and contented. Suddenly her world was turned upside down by the death of her Father in 1909.
Very soon afterwards her Mother re-married for what Nellie said were the practical reasons of providing "a roof over the heads" of herself and her brother. With the realisation that the new Step-Father was a very heavy drinker, her Mother, Annie, becoming fearful for her safety, sent her to live in the Oldham area. It is assumed that Nellie probably went to stay with some distant relative or friend of her Mother's named Mrs. Burns, who lived in or around Littlemore Lane, Oldham. It appears to be this lady who later found Nellie and Charlie accommodation following their marriage.
A cheeful gentle lady who enjoyed the company of others, Nellie particularly liked music and dancing. A real romantic at heart she especially enyoyed the Musical films of the 1950's, the Sound of Music, (she saw it in the Cinema on three occasions), South Pacific, Carousel, were all favourites. Live Theatrical musical productions by local Amateur Groups were visited as often as possible.
To ensure that she had music in her home, Nellie bought a new radio. As the price of the radio was well beyond the normal household budget, Nellie, risking the wrath of husband Charlie, and with great secrecy, bought the Radio on hire purchase. Each week, Nellie would quietly hurry over to the shop and pay her instalment off her account. It was many months later that Charlie discovered how the radio had been purchased but by which time, he would not be without it.
Nellie (or Grandma Primrose to her Grandchildren displayed infinite patience with the majority of people, especially her Grandchildren. Trips to Oldham Market were always special with Grandma Primrose, a ride on the 'Dobbie Horses", an Ice Cream from Granelli's followed by one of Mr. Hurst's Meat pies plus chips for tea, are still remembered many years later." ~~~~~
by Norma Eaton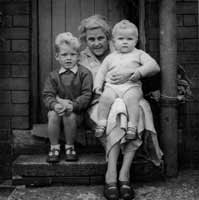 In Oldham, Mary Ellen, her husband Charles lived on Pembroke Street, where their daughter was born in 1926. They later lived at 61, Primrose Bank, where their son, Brian, was born.
Story and photo contributed by Norma and Brian Eaton