OUR MEMORIES & STORIES
SUTTON AND KEARY LIVES
The memories on the linked pages are from Norma Eaton (nee Keary) and are about the lives of her parents and relatives.
My 'Coz' Monica ... Monica Brierley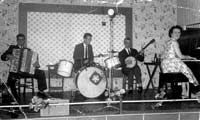 "Born in 1926 my Cousin Monica was a bright intelligent child. She entered and passed, without difficulty, the examinations for Grammar School education in Liverpool. Her Mother, a staunch Roman Catholic, chose to enrol her at the local Catholic Grammar School in order that she be taught by the Nuns. Monica's studies progressed well throughout the years there.
From the age of five years, music had always held a great fascination for Monica and as an only child, her parents with careful financial budgeting, managed to send her for piano lessons. Monica passed her first music examination at the age of eight years. Whilst studying at the Grammar School, Monica later undertook and passed a degree course in music. A brilliant future seemed to offer, the Nun's, enthusiasm that Monica undertake further studies, with a view to a career in teaching, could not persuade Monica's Mother, Louie, (her Father Jack being away at sea), to agree to further education.
Louie's refusal to sanction further education, appears to have been based on the fact that in the latter few months of Monica's education, at around age 16, Monica had, each weekend, played the piano at various social clubs in the area. The income resulting from this was, of course, very welcome. This decision appears to have set the pattern for the remainder of Monica's life. Whilst working Monday to Friday as Secretary/Shorthand typist to an Accountant in Liverpool, each Friday, Saturday and Sunday night Monica spent playing at various venues around the Liverpool area.
During her musical career, Monica played as accompanist for several well known Liverpool personalities, amongst them one who is considered to be the greatest Liverpool Commedian of all, Ken Dodd. He too lived, like Monica and family, in Knotty Ash, Liverpool.
Like her parents, Monica always considered her closest family to be my parents, Bill and Nellie Keary. Each holiday weekend the family would travel up from Liverpool to my home in Oldham. There we would have the greatest parties, Monica on Plano, her Dad Jack on Wash Board, ( a piece of laundry equipment from the kitchen), my Dad Bill Keary on Banjo and my Uncle Norman on drums. During the second World War the parties continued throughout the noise of the blitz, which was directed on Manchester.
My Cousin Monica sadly died in 1975. We have, what l consider to be a very precous family heirloom, an audio recording of Monica playing for a family sing-along. The recording is called "Christmas 1940". This recording was made on a cheap, plastic tape recorder and consequently the quality of sound is poor. Nevertheless, it brings back many very happy memories and these are so valuable to those of us who were privileged to know 'my Coz Monica'."
Story and pictures contributed by Norma and Brian Eaton