OLDHAM RUGBY LEAGUE HERITAGE TRUST
"THE ROUGHYEDS' KITBAG"
OLDHAM RLFC - During World War One 1914-1918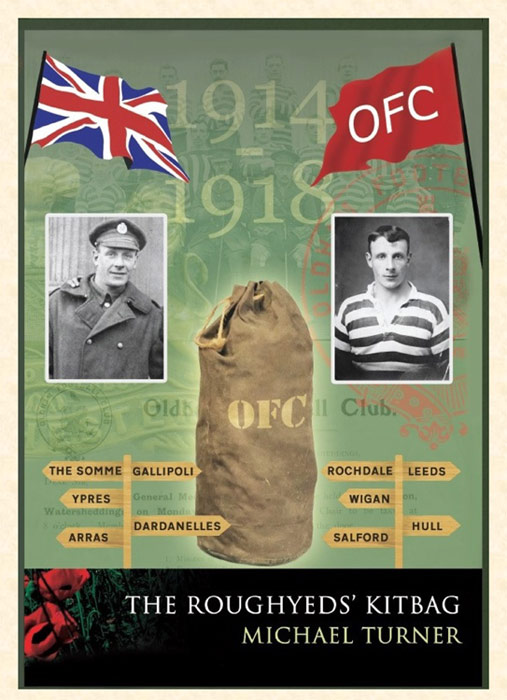 Already proving popular with Rugby fans from far and wide, "The Roughyeds' Kitbag", following on from the successful book launch at Gallery Oldham, has already been sent out to destinations throughout the United Kingdom from Kent to Scotland and West Wales to Humberside with copies also despatched to Australia and New Zealand.
Some of the comments received so far for "The Roughyeds' Kitbag" read as follows:
"An absolutely first rate book, full of incredible detail and illustrations."

"It is a wonderful publication not only for Oldham RLFC but also for the town and its social history. It is little short of amazing. Well done!"

"A timely edition on the 100th anniversary of the end of the Great War. The Roughyeds' Kitbag is a must for those who appreciate Rugby League's rich history and heritage".
Priced £20, this is a LIMITED EDITION of 500 copies, packed with facts, figures and images, the book, 192 pages and in full colour is a chronological review of the running of the club during one of the darkest periods in the history of the country.
Add £3.50 for postage and packing – Free Delivery to Oldham postcodes.
(Author Michael Turner will be signing copies of the book in the Local Studies and Archives centre on Union Street, on Saturday December 8th from 10am until 1pm.)
To order a copy please contact the Heritage Trust at:
9,Dumfries Drive, Denshaw, Oldham, OL3 5SG.
e-mail: oldhamrl1895@gmail.com or Phone: 01457 810197