A Petition for Serving Cocoa at Wakefield Work Centre in 1917
with the signatures of 200 Conscientious Objectors.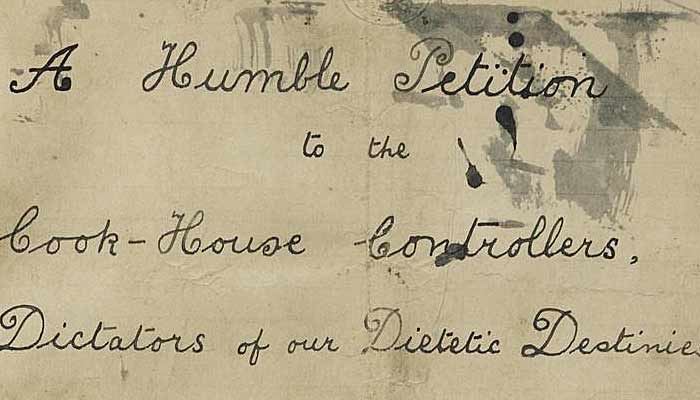 Note: to have been at this Work Centre meant all of these men must have received prison sentences with 'hard labour' , as Conscientious Objectors.
Their own details (known) will appear on the Pearce Register at the IWM - 'Lives of the First World War'
Read more about the Work Centres HERE

Ernest C. Dunstan, an Oldham Conscientious Objector, appears on this list, with a link to his page on this website and then to his entry on the Pearce Register.
Page 1
A Humble Petition to the Cook-House Controllers, Dictators of our Dietetic Destinies, and Dispensers of Dinner-Time Delectables at the Wakefield Work-and-Sleep Centre in the year of disgrace, One Thousand Nine Hundred and Seventeen.
Page 2
THAT WHEREAS WE, the undersigned Conscientious Objectors to Military Service, bound in the bonds of International Brotherhood and Peace to the afore-mentioned Controllers, do herewith and hereby Humbly Pray them of their charity to serve Cocoa in addition to Tea at tea-time. WE make this supplication so that those comrades among us who do not like tea at any time; or who are of opinion that it cannot be prepared in large quantities to the best advantage; or who are advised medically to avoid tea; or who believe tea to be a slow poison, bad for the heart, a constipative and a nerve destroyer, may refrain from that beverage, without thereby depriving themselves of
Page 3
Liquid Refreshment at the evening meal. Signed:- Robert Stott (Chairman) Rowland Barrett, Thos Berry, George Crowther, Geo B A Douglas, S.G. Hines, L Buckley, W A Martin, G Bristow, [ ? ] G.B. Jeffery, C.H. Tildesley, F Gooch, W B Morton, N Clark, A.C. Morley, B.J. Mansell, J. Williams, B.J. Boxall, J Craven, B Levy, J R[ ? ], C W Brock, W Stanyon, A L Blackburn, F Foreman, W Leaver, A E Ch[?]es, M Bradford, S B Bodle, Tom Lipton, T. Alexander, W. Harris, L Renton, S Hall, Arthur E Vallance, [ ? ] Robinson, E.L. Jenkins, S C Allanby, A H Openshaw, J Tomkin, G J Cooke, W E H[ ? ], J Mowat, D Kennedy, [ ? ] N. Tonge, J J O'Driscoll, A J Haslett, G. Shakeshaft, H A Hall, R Bell Esq, C Rodgers, Tom Starkire, W Allinson, R O Blott, A E Thorn, D Rosenthal, J Brown, H M [ ? ], A.J.W. Robinson, E Gaunt, [Henry Dubb]
[many of the signatures are difficult to read - there may be errors in the transcription]
Page 4
[ ? ] F Clark, E.H. Hancocks, J Martin S Hollingsworth, [ ? ] Summerbell, [ ? ] Purnell, C S Gallop, A Dalton, O.F. Gasser, L. Fox, R. Gathergood, F.A. Page, W. Holland, A.H. Taylor, J.H. Williams, Thos B. Clark, A J S Ward, J W R Mead, F Slack, J McDougall, A Bryan, P H Pitman, Musselburgh, Shuttleworth, J Brierley, Geo. Watling, [ ? ] McInnes, Wm Williams, H Clarke, J Maxton, A. Groves, J. Mitchell, P F Goldsbrough, E Luff, Edwin Hopwood, J G Clarkson, H Crook, J.A. Mackay, R M Wallhead, R Barber, Peter Macdonald, D Paul, A McColl, W.B. Macaulay, Wm J Spur, C.A Lloyd, P.A. Platt, W Barratt, A V Austin, Brance, F Haslam, T. Counsel,l E. Davies, C [ ? ] Bullard, A H Pearlman, H S Pemberton, J Ellcott, [ ? ] Eastwood, D Gray, F Durkin, A Dowie, D. McTavish, J. Jackson, I. Whaton, Guy Newcomen, Mat Shaw, D. Macintyre, D Gant Young, [ ? ] @ Leeds, Fredk A Hills, C.C. Howard, W.S. Jones, T O Thompson, J.A. Harney, [ ? ] G W Cullum, F C Dearlove, A Muskett, S E Stone,
[many of the signatures are difficult to read - there may be errors in the transcription]

Page 5
A Partington Howard, T L Bowen, A Cole, W Livermore, R W Heath, Alex Epstein, A I Goldberg, S. Shepherd, M Scurrah, F Wheeler, W Price, H C Gregory, J Taylor, E F Carr, C. Hall, B. Oxenburgh, A Newlands, C.R. Stanyon, A E Adams, F. Lawson, A. Hargreaves, W. Wood, W.J. Nolan, S.C. Smith, E J Knight, H. Wall, [ ? ] Shrigley, [ ? ] Macdonald, W Walsh, E C Dunstan , [ ? ] Rennie, E Bu[ ? ], John Baldwin, J Pitman, W.S. Easterford, Ronald A. Bland, H Green, G W Hall, W.J. Kirkby, C. McRae, G.E. Hicks, E.C. Burn, O.C. Wyron, Ernest Shepheard. I want tea, but I want those who want cocoa to have cocoa. A Lawrence, A.G. Gell, " H Butterfield, " W.A. Glant, J Grounds, J Meadowcroft, J Turner, W Cross, J.S. Burt, J.W. Baker.
200 names The petition was presented to Mr Wardropper, B.Sc. on 27 Sep., & the cocoa served at tea for the first time on 15 Oct. 1917.
[many of the signatures are difficult to read - there may be errors in the transcription]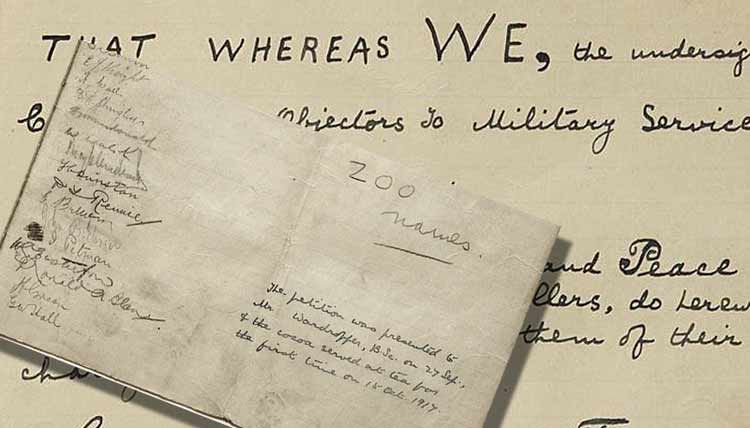 See transcript and digital copies of all the pages (at Warwick University Library) HERE