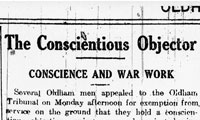 Oldham Chronicle 8th July 1916
The CONSCIENTIOUS OBJECTOR -
CONSCIENCE AND WAR WORK
Report of Oldham Tribunals
transcript of report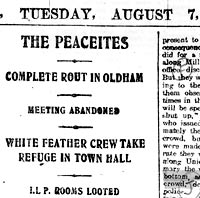 Oldham Standard 7th August 1917
Report on the Riot in Oldham at the
first meeting of the 'Peace Crusade'
(Transcripts of reports and letters from
The Chronicle and Standard,
In 'Campaigning for Peace' Pages)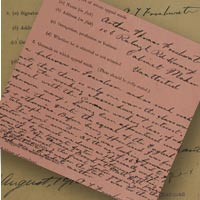 Two examples from the Military Service
Local and Appeal Tribunals in Middlesex,
from the National Archives.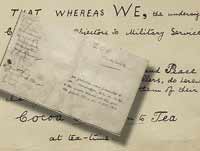 A Petition for Serving Cocoa at
Wakefield Work Centre in 1917
with the signatures of
200 Conscientious Objectors,
including Oldham man.
Transcript

Conscientious Objectors
And Perpetual Hard Labour
Shaw, G. Bernard
The Manchester Guardian
August 14th, 1918
Transcript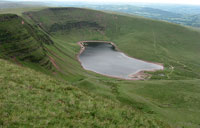 Construction
of
Llyn y Fan Fach Reservoir
Completed by CO labour.