THE ALAN GODFREY MAPS - Reprints of Old Ordnance Survey Maps. Almost 3,000 titles, covering most of the UK and parts of Ireland.
For most of us interested in Local and Family History, they can offer a window on the streets in which our ancestors lived at the turn of the 19th century and sometimes earlier, at a scale of approx 14 inches to the mile (1:2500).
For my own convenience I decided to try and index all the streets, churches and some physical features etc. I have included the results on this website and, If you also own some of these maps, you may find it helpful.
Index only ... the maps themselves are not found on this website
The local maps can be purchased for a modest cost from the Manchester and Lancashire Family History shop on their website HERE
or, for maps of different scales and different locations, from the Alan Godfrey website HERE
My personal interests in the Greater Manchester area are covered on the maps shown on this location/layout grid.
The maps included are:
CHADDERTON 1907, 97.05; OLDHAM 1907, 97.06; OLDHAM EAST 1907. 97.07;
OLDHAM SOUTH WEST 1916, 97.09; OLDHAM SOUTH 1906, 97.10; LEES 1906, 97.11; LYDGATE 1906, 97.12;
HARPURHEY & COLLYHURST 1891, 104.03; NEWTON HEATH 1915, 104.04;
MANCHESTER NW & SALFORD 1915, 104.06; MANCHESTER NE 1891, 104.07;
CLAYTON 1932, 104.08; DROYLSDEN 1906, 105.05; ASHTON-U-LYNE 1916, 105.06;
MANCHESTER SW 1894, 104.10; MANCHESTER SE 1915, 104.11;
OPENSHAW 1905, 104.12; AUDENSHAW 1916, 105.09; GUIDE BRIDGE 1918, 105.10;
ASHTON & DUKINFIELD 1907, Cheshire 3.09;
GORTON & BELLE VIEW 1905, 104.16; DENTON (WEST) 1916, 105.13;
DENTON CENTRE 1918. 105.14; SOUTH DENTON & HAUGHTON GREEN 1904, 112.02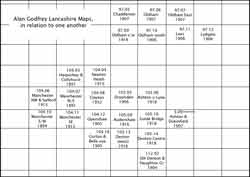 Link to larger copy
The maps all come folded with 10 parts; 2 rows of 5. these form my grid of A1 to A5 top row and B1 to B5 bottom row.
There are 7,500 entries, and they are indexed in alphabetical order, referencing the map and their position on the map, for eg. 'OLDHAM 1907, Ainsworth St , B1'
I cannot guarantee that I have identified every street etc., but there are enough for it to be helpful and I hope you can find it useful.