The Isle of Man
I have just been listening to Terry Wogan describing the Isle of Man and all the places of interest there. I really enjoyed the programme and it brought back many happy memories.
I remembered how we saved one shilling a week till we had two pounds fifteen shillings. How we managed it I'll never know. We knew we would have a broken week when we got back because there was no holiday pay for Oldham Wakes but that didn't worry us, we had worked twelve months for this holiday.
We usually went in a group of four or six girls. We got the train from Mumps station and then the midnight I.O.M. boat from Fleetwood to Douglas. We arrived very early in the morning and had to wait outside for our rooms to be got ready.
When we got in our rooms we organised our money. First we put away £1.1s for our digs, then we went out to buy our presents. We went to the Strand to send home a box of kippers, that cost 9d or ls.3d I think everyone from Oldham sent home kippers, I bet the postmen were glad when Oldham Wakes was over. Then we would go round the shops to get our other presents. I used to get Woodbines for my dad and a brooch for my mother and small presents for my younger brothers and sisters. I would get a rattle for the baby, a mouth organ for Billy, a purse for Rose, an imitation watch for Teddy, some soldiers for Richard and a dolly for Kathleen. All these presents were put at the bottom of our cases, then we could start our holiday.
There was a big boy's camp called Cunningham's and there was a dance there every moming. It was free if you went in with a boy - no trouble. We would make arrangements for the evening. Sometimes we went to Derby Castle or the Villa Marina, but that was quite select, it cost ls.6d to go in. We danced till 11 o'clock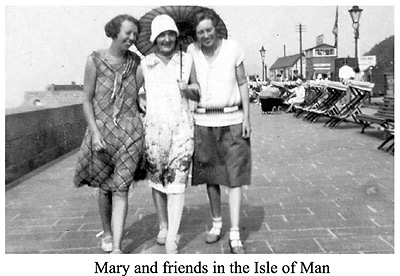 to the big bands. I remember having to run back to our digs because it was Lights Out and the doors were locked at 11.30. Sometimes we had to be let in and we were shouted at.
During the day there was lots to do. We walked to Groudle glen or up to Onchan Head where we would sit on the cliff top, meet with other Oldhamers and watch the boats coming in. Sometimes we went for a sail with a boy, it cost 3d. There was a big hotel on Douglas Head where well-known artistes like Florrie Ford or Vesta Tilly were playing. You could hear music all over Douglas Head.
Friday soon came round and we all felt a bit sad but it was Carnival Night and we enjoyed ourselves for the last time that year. We didn't get much sleep that night and we had to be up at 6 o'clock to catch the boat. I remember one year we had a whip-round and got about ls.6d between us and we hired a landau to take us from the digs to the boat. What a thrill that was, we felt quite wealthy but if they only knew, we only had a few pennies left for emergencies. When we got to the boat we met up with our friends and swopped stories about our holiday. Many a romance was started on the Isle of Man.
We were very sad to leave and I would have loved to live there but there were no cotton mills in the Isle of` Man and our mothers needed our wages. It was back to work on Monday and we had no wage the first week but we had enjoyed our holiday.