OUR MEMORIES, FAMILY HISTORY & STORIES
'Oldham Stories', by Mary Dickinson is a privately published collection of her memories which were collected together by her daughter, Irene, and published in Mary's name, by her grandson, for her extended family to enjoy.
A copy was sent to the Research Group for reference, along with the kind permission to copy a selection, from the 68 little stories, onto this website.
Reading the stories I started to want to know even more about Mary and a little bit of research revealed some background information.
On the 1911 census 4 year old Mary Jane McAndrew can be found with her family living on Lodge Street, just off Peel Street (which ran parallel to Horsedge Street, from Egerton Street). Her father was 25 year old Michael Joseph, a carter with the Railway Company. He had been born on Alfred Street in Werneth. Her mother was 26 year old Ellen and there was also 2 year old brother Edward and 8 month old sister Rose.
Mary Jane would later marry Leslie R. Dickinson, in 1929.
On the 1911 census Leslie can be found as a 17 year old apprentice machine fitter, with a textile company, living with his family on Union Street West. Along with his siblings, Leslie had been born and lived the early part of his life, in St. Petersburg, Russia. His Salford born father, was Alexander Francis, age 47, a foreman moulder in brass and iron foundries. His mother was Liverpool born Francis A., also age 47. Leslie had 4 sisters, Ada age 20, Daisy age 18, Vera age 15 and Ella age 14. Sadly, Mary Jane would be widowed at an early age in 1953 when Leslie died.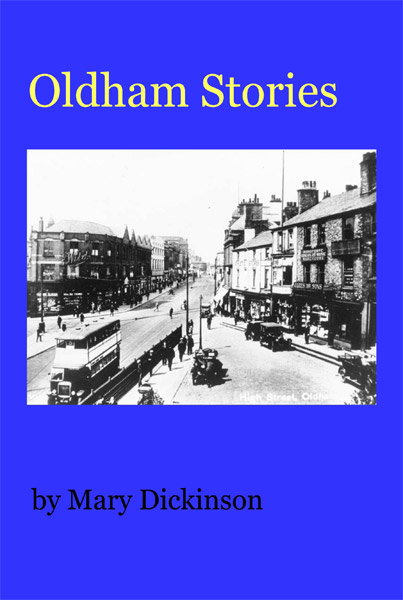 From the book :
Return to MEMORIES, FAMILY HISTORY & STORIES