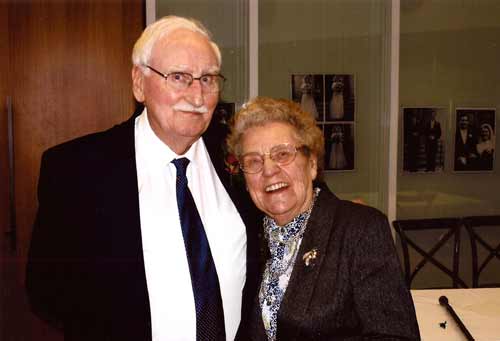 Aelred's father was Oldham-born Joseph Taylor, who is found on the 1911 census, as a 15year old, living with his family on Grant Street, in Oldham. His father was John Lomas Taylor and his mother Annie (nee Rooney). There were also two younger brothers, James and Frank, an older sister, Mary May and two younger sisters, Elizabeth and Edith.
~~~~~~~~~~~~~~~~~~~~~~~~~~~~~~~~~
(Thumbnails link to larger pictures)
"I was born in the house known as 'Rivington View' in 1927 and the address was Top of the Edge, ( Top o' t' Edge) Henshaw Street, Oldham. It would have been a fine house in its time but who built it; when was it built and why was it built in that location?
I have lived in Australia for the past 55 years but my sister visited Rivington View with a cousin 10 years ago, more perhaps, and it was a community radio station and the tennis lawn a car park. The two ladies made themselves known and were invited in for a cup of tea!
It was my cousin John Taylor who lived near Bolton who suggested that the house may have been called Rivington View because (during Wakes week) it may have been possible to see Rivington Pike about 30 miles or so away?
The boundary between Oldham & Royton ran through Rivington View property and I was born and registered in Royton -- and that is what it says in my Passport!
My father owned the house in Henshaw Street where my older sisters were born. One is now 91 and in care in Cambridge; the next 89 and has lived in Johannesburg for the past 68years.
The stay in Rivington View was short (perhaps 4-5 years) as we moved to Loughborough, Leicestershire in November 1930 before I was 3 years old, (my birthday is 29th December 1927). The house couldn't be sold in the depression and had a tenant who sub-let and the house fell into disrepair and an offer of £100 was made to purchase the building.
In 1941 my father died from injuries received in a car accident and I don't know how the house was disposed of. I used to go and look at the house when we visited relations in Oldham and the last time that I saw the building was in 1978 and the top of the house seemed to have been removed and a roof at a lower level constructed.
My great Grandfather was William (sometimes L. William) Taylor who was a 'pit shaft sinker' in the Lancashire coal fields and known as 'Big Bill Taylor'. My Grandfather (John) Lomas Taylor known as 'Lommy', is shown on the census as 'time keeper' but may have once been a teacher. He was a cyclist and we have a photo of him with the Clarion Cycling Club about 1900. He died in the flu epademic in 1919.
Clarion Cycling Club

Clarion Cycling Club picture ... John Lomas is third from the left seated on a bench and between two ladies -- this and the one in later life are the only ones I ever saw.
I thought that the cycling picture might have been in the late 1890s but the Clarion Club was able to pick up the shield and the badges being worn and know that it was later than 1900.
My father, (Joseph) was apprenticed to Hirst Brothers of Oldham as a turner & fitter, clock and instrument maker and was sent to work in the 'Torpedo Factory' in Greenock (on the river Clyde) during WW1 and met my mother while working there.
His eldest sister Mary May married A.E (Eddie) Kincoyne and lived at 32 Shaw Street for their working life -- diagonally opposite St Mary's Catholic Church, which is now only an occasional church.
May was the head of the Junior department at St Anne's School for many years.
An uncle by marriage, John Francis Cheetham, was a spinning mill manager in Oldham and Bombay, as was his father, also John Francis Cheetham before him, but John Francis Cheetham 3rd became an accountant and worked in Europe and USA and is retired in Florida but visits Oldham.
My uncle John was the manager of the mill where the flywheel flew out through the end wall many years before when the safety valve failed. I visited the mill shortly after the war (I was still in uniform) and the extent of the rebuilt brickwork was still quite obvious. It was featured in the Journal of the Inst. of Civil Engineers many years ago.
We moved to Melbourne Australia in 1960 to work on a contract for five years but that all fell through and 55 years later we are still here. We have left our mark, however, with nine children, 26 grandchildren and only just beginning with 4 great grandchildren. One daughter is an Opera singer and sang at the Royal Opera House Covent garden for 10 years and elsewhere in England (incl. Manchester) and Europe as Hilary Taylor -- now married with three children. All the children have done well here and are university educated and very musical and so are the grandchildren.
~~~~~~~~~~~~~~~~~~~~~~~~~~~~
History Lesson: I was born on 29th December and that is the feast day of St Thomas Becket, Archbishop of Canterbury. He was hacked to death on that date in 1170 by Knights from the Court of King Henry ll hoping to find favour with the King ,who is reputed to have said "Will nobody rid me of that troublesome priest". It was the tradition when I was born to be named after a Saint -- so what better than Thomas. My Godfather was Thomas Ginley who was a student priest at the time so that reinforced Thomas. He had a good friend called Aelred, so I became Aelred too, T.A.T -- known behind my back at work as 'Tatty' or later on 'Old Tatty'! Thomas Ginley went on to be a priest and was the Chaplain at Strangeways Prison during the riot in 1933(?) and was physically and mentally injured. Later on (at the start of the war) the Bishop of Salford called him in and said that they needed a Mission for Seamen in Manchester -- "Go Forth" without a penny to start with. Money poured in and the Club was a great success. I only met Fr Ginley once, when I was an adult and he was living quietly in a Parish.
That is one side of the story; St. Aelred was the Abbot of Rievaulx, near Hemsley Yorks for 20 years -- and died in his bed in 1167. He was educated in the Royal Household of Scotland and surprised everybody by becoming a priest. He was a scholar and international negotiator amongst Kings an Princes and knew Thomas Becket and advised him on some of his troublesome matters. When I was taken to church to be baptised my Mother would have been confined to bed for 10 days as was the custom and so did not attend and had no idea what I was to be called until it was all over.
~~~~~~~~~~~~~~~~~~~~~~~~~~~~
Local History: My father's cousin Joe Jones worked for a car tyre retailer ( who may have married into the family -- some connection). It was a good business and when the latest Ford V8 arrived in Oldham he had to have one. I remember seeing it -- it would have been mid 30s. (It was a new shape and that shape continued for some time). Can't remember his name but he was very proud of his Ford V8 and accepted a wager that he couldn't drive from Oldham Town Hall to Blackpool Tower in 60 minutes. There was very little traffic in those days and no traffic lights or traffic islands and he did it. You may know better than me but I understand that it is /was about 60 miles.
~~~~~~~~~~~~~~~~~~~~~~~~~~~~
Just a thought -- If you continue up Shaw Street, past Malpas Street, the Bluecoat School is on the right and at the top of the rise the Rope-walk was on the left and then down the steps into another world.
My lasting memory of Oldham is of women in shawls (always old in those days) and workers who wore clogs.
~~~~~~~~~~~~~~~~~~~~~~~~~~~~
Well, there you have it in one page -- and I still support the Brits at sports even though the Aussies usually thrash them!"
Contributed by Thomas Aelred Tayor
Return to MEMORIES, FAMILY HISTORY & STORIES